Upgrade marks TYPETR's first "normal" typeface release in many years. This substantial sans serif family supports a generous set of characters and features, and will thrive in a wide range of publication types and media. The typeface lends itself particularly well to scripted workflows.
Acknowledgements
As always, designing a large family like this—writing a novel—never happens without the support and input from a great team. I'd like to thank (in order of appearance) Claudia Mens, Tilmann Hielscher, Jill Pichotta, CJ Dunn, David Jonathan Ross, Marina Chaccur, Tamye Riggs, Yves Peters, Claire Lindsey, Kirsten Langmuur, Caren Litherland, Chris Lewis, Paley Dreier, and the rest of the Type Network production and marketing teams.
I'd also like to thank the suppliers of tools: Frederik Berlaen, Tal Leming, Erik van Blokland, Just van Rossum, Alexandre Saumier Demers, and Michiel Kauw-A-Tjoe.
Last but not least, thanks to my partners in Type Network (and more): David Berlow, Sam Berlow, and Roger Black.
Thanks to all for the creation of context, valuable input, support, and resources.
—Petr van Blokland
This site
This website gives an overview of what TYPETR Upgrade is capable of, and provides background information about its design and production. The site itself demonstrates what can be done with TYPETR Upgrade.
Furthermore, the site contains a variety of example publications, most of which can be viewed in detailed PDF form by clicking on the thumbnails.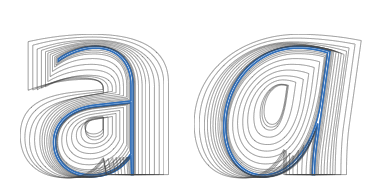 Wide range of weights
Because Upgrade is destined for complex, heavy-duty typography, an extremely broad range of weights is available, from Hairline to Ultra Black. Read more
Extended glyph set
Upgrade includes an extended glyph set supported by a number of stylistic feature options, such as small caps, inferior and superior figures, an inline capital J, and an alternate g. Read more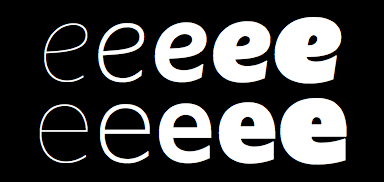 Five master drawings per character
Different weights of a typeface are often made by interpolating two or three master drawings per character. Upgrade is made from five original drawings. Read more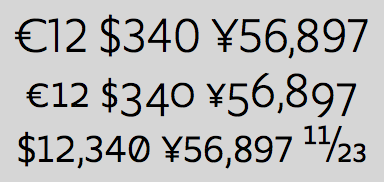 Figures and fractions
Upgrade offers a variety of figures and supporting currency symbols for use with capitals, small caps, lowercase characters, and fractions. Read more